Get happy about depression study results
Senior Reporter- Philadelphia Business Journal
Neuronetics presented new data showing its NeuroStar TMS Therapy System was not only effective in the immediate treatment of patients suffering from depression, but sustained those results through one year of treatment.
"It's not typical to see long-term benefit in patients who have treatment resistant forms of depression," said study investigator Dr.
Philip Janicak
, a professor of psychiatry at Rush University and the medical director of Rush Psychiatric Clinical Research Center.
The study results were presented Tuesday by the Malvern, Pa., company, led by CEO
Bruce Shook
, at the annual meeting of the American Psychiatric Association in San Francisco.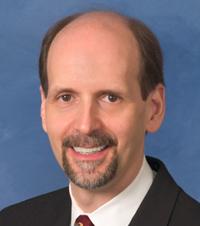 Neuronetics' TMS (transcranial magnetic stimulation) therapy involves the use of a non-invasive therapeutic device to deliver MRI-strength, pulsed, magnetic fields that induce an electronic current in the cerebral cortex — the part of the brain that controls mood.
The study found 68 percent of the patients treated with Neurostar experienced significant improvement in their depression, and 45 percent reported being in complete remission a year later.
The clinical trial involved 42 clinical practices and 307 patients with a primary diagnosis of unipolar, non-psychotic major depressive disorder, whose conditions failed to improve after previously receiving antidepressant medication.
More than 12,000 patients have received treatment from one of the nearly 500 NeuroStar Systems now in operation across country since the therapy was cleared by the Food & Drug Administration in 2008, according to Neuronetics.
In June 2012, Neuronetics received the European Commission approval for the NeuroStar TMS Therapy System.
http://www.bizjournals.com/philadelphia/news/2013/05/21/get-happy-about-depression-study-results.html